Road & Commuter Bikes
From lifestyle to passion, a small shop with a wide selection...


Our products are chosen to reflect the character of our local community to enable us to provide exactly what is needed. To give the customer a bike both for their passion and comfort to enable enjoyment in their cycling life. To provide a bike both for necessary transport and pleasure, providing the appropriate functionality.
ROAD BIKE SALE ON CERTAIN MODELS NOW ON!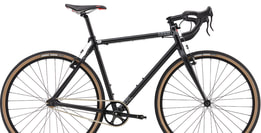 CHARGE PLUG 1 2016 L&XL

WAS £499.99
NOW £449.99
The ever growing in popularity for day to day bikes here we have the high quality single speed bikes from the primary named brand CHARGE. This is the PLUG 1 model which consists of a 6061 aluminium frame with drop handlebars and powerful centre pull rim brakes from Tektro. Both front and rear wheels consist of sealed hub bearings. Unlike previous PLUG models this years edition comes with necessary eyelets should you wish to fit both full length mudguards and pannier racks.
---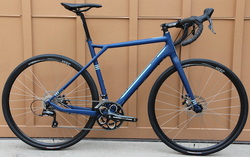 GT GRADE SORA XL 2015

WAS £749.99
NOW £699.99
This GT enduroad bike was officially road.cc's bike of the year 2015 and offers the great features of both road and hybrid bikes -smooth and nippy on the roads where at the same time can take more of the beaten tracks as well. As a bonus these bike have the much wider gear range of which you would normally find on either a hybrid bike or mtb. For the gear setup this bike comes equipped with the full Shimano Sora 2x9spd gear setup as well as bengal mechanical disc brakes which combined allow for good speed to be picked up as well as great stopping power. The wheels on the bike consist of formula fully sealed hubs and Alex ATD470 disc rims.
---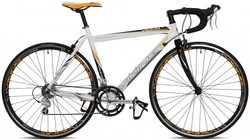 VIKING ELITE

WAS £599.99
NOW £549.99
Lightweight alloy 6061 frame fitted with carbon fibre taper blade forks offering mudguard clearance. Tis bike runs on 18spd Shimano Sora gearing using STI dual control shifters and a Prowheel 53/39T chainset and Shimano 9spd 12/25t cassette. The wheels on this bike use a set of Viking A-350 rims on QR alloy hubs which are fitted with a set of Kenda Koncept 700x23c tyres. For stopping power it is supplied with alloy dual pivot calipers.


---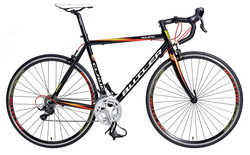 CLAUD BUTLER ROUBAIX 53 & 58cm

WAS £629.99
NOW £549.99
Lightweight alloy frame fitted with carbon fibre forks featuring enough clearance space for mudguards to be fitted. The bike runs on 18spd using Shimano Sora gearing with STI dual control shifters and the Shimano 2350 34/50T chainset featuring a sealed cartridge BB. Wheels on this bike are Shimano double wall alloy Q/R running on Kenda 700x23c tyres. For braking this bike uses alloy dual pivot calipers with 57mm reach.
---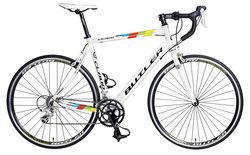 CLAUD BUTLER SAN REMO 59cm

WAS £449.99
NOW £399.99
Lightweight alloy frame fitted with robust steel forks. The bike runs on 16spd using Shimano 2300 STI dual control shifters and a compact alloy 50/34T chainset and an 8spd 13-26t cassette. The wheels on this bike are double wall aero rim on alloy hubs. The brakes featured with this bike are alloy dual pivot.


---
​COMMUTE BIKES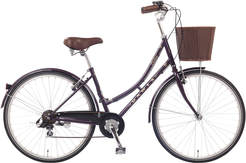 DAWES DUCHESS PLUM 17"

£349.99

Combining classic looks with modern styling the Duchess is the bike to be seen riding about town. It's fitted with all the essentials such as a comfortable websprung saddle with matching grips, a rattan effect basket, kickstand and painted mudguards to complete the heritage look. The 7 speed Shimano gears allow you to pedal your way around town with ease.



---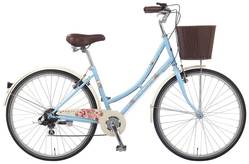 DAWES DUCHESS ROSES 17"

£349.99

As of the Dawes Duchess Plum but in a sky blue colour with cream mudgaurds as well as chainguard.

---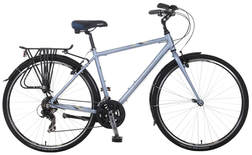 DAWES MOJAVE 18"
WAS £399.99
NOW £369.99

The Mojave is an ideal trekking bike which offers durability, practicality and, comfort. The adjustable handlebar stem allows you to easily adapt your riding position whilst the Schwalbe puncture resitant tyres allow you to keep on riding without the worry of a flat. The Shimano chainset and 21 speed gears take care of the transmission and, our very own comfort saddle with elastomers coupled with a micro adjust seatpost add even further adjustablility, you're sure to be set for a long and comfortable ride, whatever the conditions.
---
RALEIGH PIONEER 1 LADIES AND GENTS IN VARIOUS SIZES
£389.99



The Pioneer 1 is designed for comfort and practicality; it has an upright riding position making it a pleasure to ride both for leisure and commuting purposes. This bike is fully equipped with a kickstand and colour matched pannier rack and mud guards meaning you're ready to go straight from the shop.

The Pioneer's frame boasts a high quality finish with unique metallic paint colours and silver highlights giving the bike a stylish look to match its practical nature. The adjustable height handlebar and stem provide flexibility for the rider and plastic scuff protection on either side of the Selle Royal saddle means you can lean your bike against a wall or other rough surface without having to worry about causing damage to your bike.

CST Zepplin high volume tyres with puncture protection mean you won't spend all your time at the side of the road fixing that nasty puncture and to help make sure that you're seen and safe at night the tyres are completed with a reflective strip around the tyre rim.

With a wide range of 21 Shimano gears you'll discover it's easier to find the right setting to get you up the hills and down the other side.